Monday, 27 February 2012
If you follow me on Twitter, you will already know how much I love MAC Cosmetics! I have been acquiring a lot of their products over the past couple of years and I just bought this amazing new lipstick from their Shop MAC Cook MAC collection, and consequently I felt the need to blog about, haha.
I believe this isn't actually out on MAC's website yet as I bought mine from an exclusive pre-release with Selfridges, and infact a lot of the collection including this lipstick is already sold out on their website so if you manage to get your hands on this, buy it.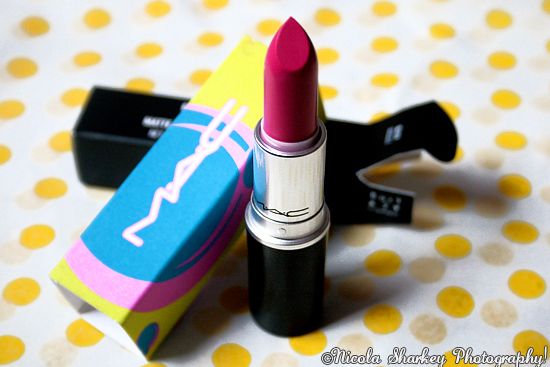 Just look at that glorious packaging...so amazing! This lipstick is called Quick Sizzle and obviously, it's a pink lipstick...a bright hot pink with a blue undertone. The formulation is matte which is a tad bit on the drying side compared to previous matte lipsticks that I have owned, but nonetheless it's still gorgeous.
I love taking product photographs, I may do more of these type of posts if I have the spare time!
I said I would upload a photo of me wearing this lipstick a while ago so here it is, a self portrait picture for you all! I love this colour by the way, and yes, that is an AFI necklace that I have on, they are my all time favourite band, huge love to them.
Nicola. x