Tuesday, 24 May 2011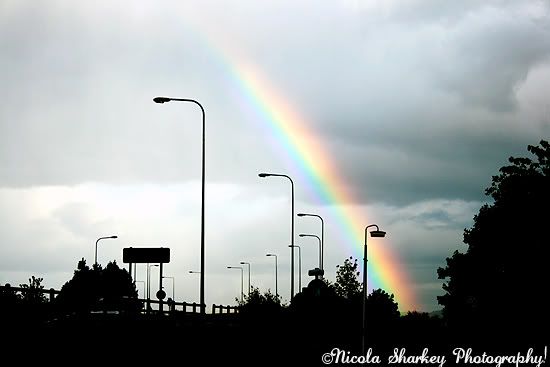 I've recently hit 100 fans on my
Facebook Photography page
!! I just want to say a huge thank you to everyone who has liked the page, and anyone who has commented on any of my posts or photos. It means a lot to know people care about my Photography.
The photo above was taken on my way to Edinburgh a couple of weekends ago, I was going to see the lovely Agitator play at the Cabaret Voltaire (which is always a pleasure to go to one of their shows) and it was a perfect moment!
Hopefully I'll have some more work to share with you all soon, it's really quiet in the Scottish music scene for gigs at the moment, and I'm honestly completely missing live music photography. I've searched and searched all of the shows coming up but it's impossible to find anything other than festivals, so bare with me folks, and hopefully I'll have something soon, fingers crossed!
Nicola x
Become a fan of Nicola Sharkey Photography on Facebook!

Tuesday, 17 May 2011
Another lovely press post today. I logged into Twitter this morning and was completely surprised to notice a tweet from a Manchester Magazine called Percolate saying I was one of their
14 Favourite Female UK-Based Photographers!
It's absolutely incredible, and I can't believe they have included me in the feature.
Percolate have also written a nice little piece on their Blog so go check it out.
http://percolatemagazine.wordpress.com/2011/05/17/snap-happy-our-14-favourite-female-uk-based-photographers
I thought I'd also post what it looks like below.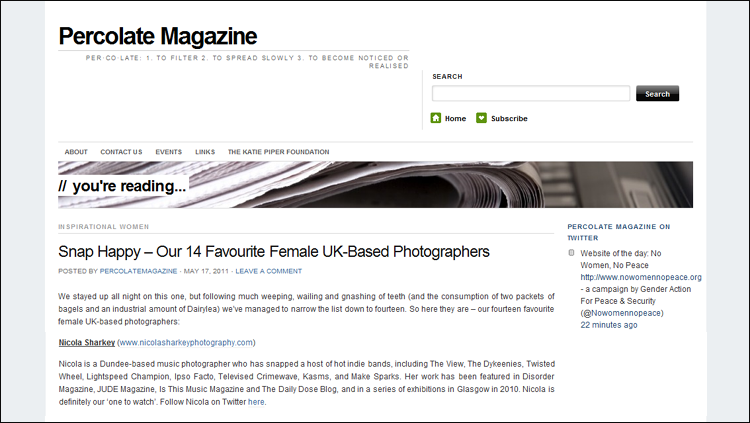 Nicola x
Friday, 6 May 2011
One of my photographs of My Fallen Idea, has been published in London's 'Disorder' Magazine. It's part of their 'Press Pit' feature and is on a full page in their April/May issue. I'm really ecstatic that my photography is reaching different cities, especially London, and to have it published in Disorder is completely incredible. I've been reading their magazine since 2006, when I first saw a photo of Klaxons on the cover. It's crazy to finally have one of my photographs in their mag.
I hope you all go out and buy a copy, Disorder can be found in all good newsagents and bookstores, and if you can't find anywhere that stocks it, you can also buy online.
Here's what it looks like below!
Nicola. x