Monday, 25 February 2013
Kerrang Tour 2013, 02 Academy Glasgow, Live Photos.
Hey everyone,
Finally back with some live music shots for you all. I recently went along to photograph and review the Kerrang Tour 2013, it's infact my first gig of the year and it feels good to be photographing music again. It was an awesome show but if you want to check out what I had to say about it, go and have a read of my photoreview for Is This Music at, http://www.isthismusic.com/kerrang-tour (coming soon)
Onto the show's layout etc...firstly I must admit that the lighting was pretty horrible, most of the time it was red and many music photographers will agree with me that 99% of the time that's a bad thing and also means most of the photos go in the bin...however I was actually pleased with most of the red shots for once, and some of them have become my new favourites!
I've already posted a couple of the photos on Tumblr and it's fairly easy to see that Tonight Alive have the biggest fanbase, one of the shots of their singer has already managed to reach 151 notes, which is totally crazy considering I don't have many people added on my account over there, haha. Anyway, there's a few more than what I've posted on here so if you'd like to check out the whole set from the night, go over to my Flickr page,
http://www.flickr.com/photos/nicolasharkeyphotography
, hopefully it won't be long before I'm photographing another gig again, and I'll be back with a blog post for you all very soon! I'll leave you now with one of my favourite shots of Chiodos from the Kerrang Tour.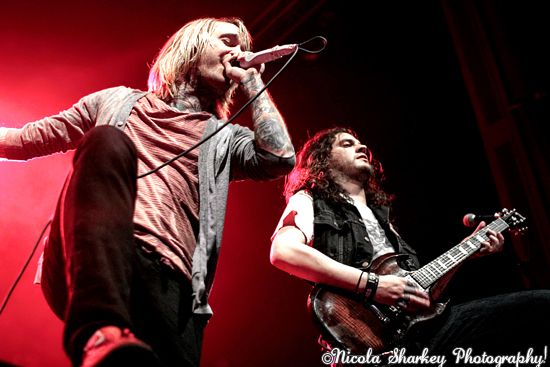 Thanks,
Nicola. x