Sunday, 22 June 2014
MAC Cosmetics Alluring Aquatic Collection.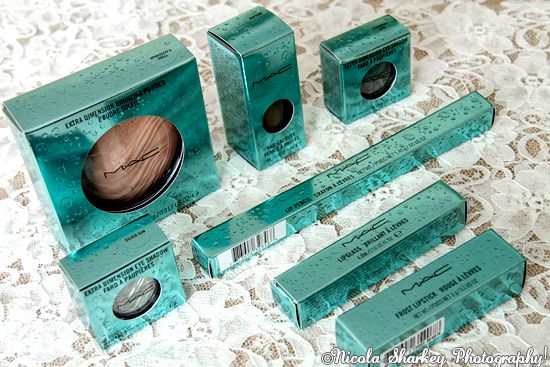 Hey everyone, I normally don't write these kind of posts on my blog as most of you will be aware, but as one of my other main interests is make-up artistry and I have been majorly inspired by MAC Cosmetics new Summer collection this year, I thought it would be nice to do a little review of the products. First off, I always love MAC's Summer collections, and last year they had two that I really fell in love with which were called Temperature Rising and Tropical Taboo, both absolutely gorgeous with stellar must have items! Futhermore, this year they have released their Alluring Aquatic collection in May and again I have been totally captured by all of the products and not to forget the incredible water droplet packaging this year (and yes it's real, I didn't put water droplets on the items for added effect incase you were wondering, haha!) I bought a fair few items from this collection and I know it's
a lot
of money however I saved up well in advance as I was looking forward to this one. The products I picked up were a Lipglass in Water Deities, Pet Me Please lipstick (I was super excited about this one as I remember it from the Fabulous Felines collection) I also bought two Extra Dimension eyeshadows in Silver Sun and Legendary Lure, an Extra Dimension Bronzer in Aphrodite's Shell, a Nail Lacquer in Neptune and a Lip Pencil in What Comes Naturally.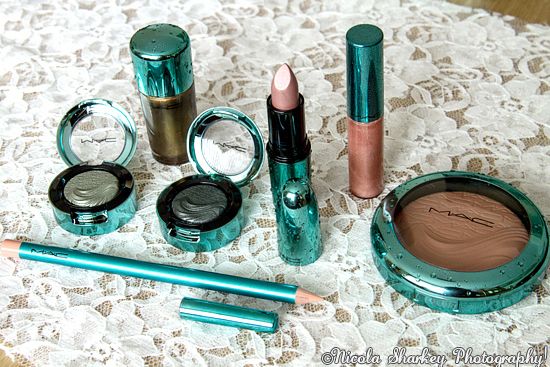 Now, let's cut to the chase the must have's from this collection for me are definitely Water Deities Lipglass and Legendary Lure Eyeshadow, for one I couldn't take my eyes off of them when I opened them out of their boxes and two, they are absolutely great pigmentation and colour. I'm also mega happy with the Extra Dimension Bronzer, I've never owned any of the Extra Dimension products before and they are an incredible texture to work with. However, you're probably wondering if I really needed all of these things and the fact is I probably didn't but there are some must have items in this batch and I've thoroughly used all of the products so I know exactly how they work and out of all the things I bought the only item I could have possibly done without was the liner, it is beautiful don't get me wrong and it is still a great item but it definitely is the least used item I own from this set so I guess I could have done without it. However, I'm in love with the rest of the products and they are an amazing purchase so if this collection is still in stock where ever you live, make sure to check it out and pick up a few pieces! Nicola. x