Thursday, 9 September 2010
Rock Talk!
Another little bit of press, a piece I have written which is featured in Courier Newspaper's Rock Talk. This time for the 'Love Music Hate Racism' Festival that's going on at Dukes Corner, in Dundee, on Sunday. The piece is mainly about Beautiful By Design and involves a little bit of an old interview with them. Check it out below, if you want to have a read.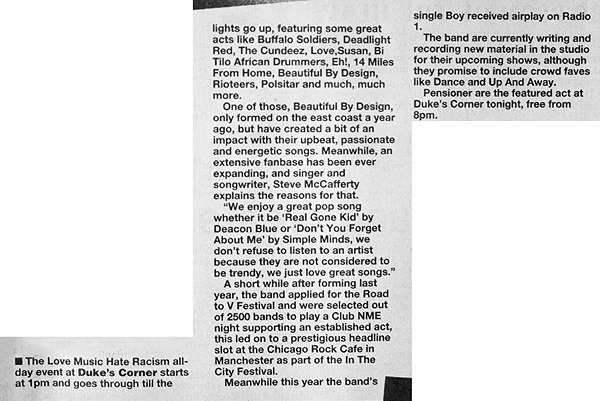 And as it says, the festival starts at 1pm, with many other great local acts involved, it's also free entry, so get yourself down to Dukes Corner, it should be a good one. There's also an after party at Soul Nightclub if anyone's interested. Next week I'm off to take some live music photos up in Aberdeen, so be prepared for a major photo update. This band are going to be HUGE very soon, and I've wanted to photograph them since last year!
Can't wait!
Nicola x