Saturday, 2 October 2010
Dundee Westfest Calendar.
A few months back I entered into a photography competition, for Dundee Westfest. I saw the advert in Urban Print back in June, whilst I was getting posters printed off for an exhibition. Westfest were looking for 13 photographs of the West End of Dundee, to incorporate into a Calendar, to help fund their 2011 festival. Luckily enough the 2 photographs I entered won!
It was the Launch of the Calendar on Saturday, and several of the people who also won came along, and recieved copies of the Calendar, with a presentation by Liz. It took place at their own shop on Perth Road, which is a lovely little place that exhibits local independent artists work, well worth a look. The Photographer who judged the competition came along to take photographs of us all outside (which yeah was as embarrassing as it sounds, haha.)
I would recommend buying one of these lovely calendars if you have £4.99 to spare, you can pick up one from the shop itself. It features some gorgeous photography of the westend of Dundee, and would be a great christmas gift!
Onto the photos. I'll start off with the Calendar itself.
And below a photograph of us all outside the shop, which isn't taken by the photographer who judged the competition, but once I get those photos I'll put them up aswell.
(Me far left, with my September page)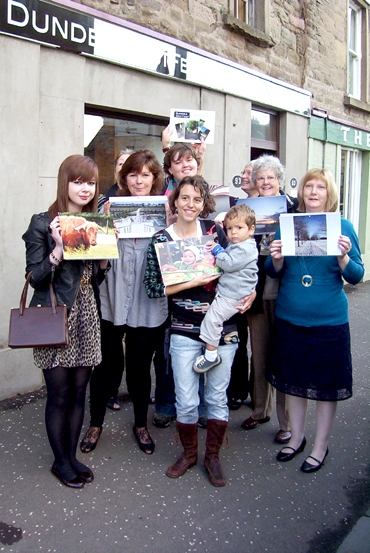 That's all for now, but hopefully I'll have more news soon. I know there's a few bits and pieces coming up so keep a watch out. I'm also finally getting around to finishing my website! It's going to look really amazing when it's done.
Nicola x